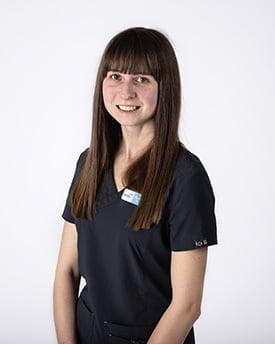 About Hannah
Hannah Clarke is one of the latest additions to the reception team at Knutsford Vets Surgery. Having diplomas in Animal Care, she is one of the friendly faces you will greet as soon as you enter. She holds Level 2 and 3 Diplomas in Work-based Animal Care.
Hannah's daily tasks include greeting clients and their pets and helping to make sure everyone has a good experience when they visit Knutsford Vets. Also, answering the phone, dealing with client queries, responding to emails and ensuring the reception area is clean and tidy. Hannah's favourite part of the job is being able to help people, whether in person or on the other end of the phone, and getting to know clients and all their lovely pets.
Outside of work, Hannah enjoys baking, reading, birdwatching, and going to the cinema. She also loves board games and quizzes, but nothing beats a family holiday! Her favourite music is anything by Taylor Swift and the Harry Potter and Marvel films. Although Hannah doesn't currently have any pets, she previously had rabbits, guinea pigs, a budgie and goldfish. She would love to have a tortoise and a dachshund!